The Wonders of Cusco, the Sacred Valley & Machu Picchu
Become spellbound in Machu Picchu, the incredible "Lost City of the Incas"
Walk with your family amid the Inca salt pans' beautiful honeycomb of pools
Wander through the lively Plaza de Armas in Cusco and visit a weaving community hidden in the hills
Set your eyes on Sacsayhuamán, "Stonehenge of the Andes"
Enjoy an exclusive Peruvian cuisine cooking demonstration by a local chef and a private lunch with a local family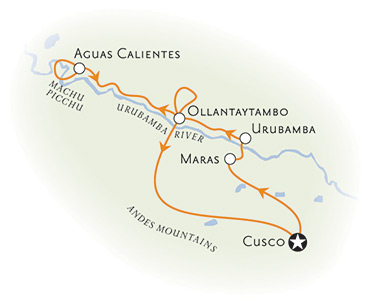 Itinerary
Days 1-2 Explore Cusco, once the center of the pre-Columbian Inca Empire
Visit Coricancha, a Spanish colonial church built atop the ruins of an Inca temple
Our local guide shares deep insight into Peru's culture and ancient civilizations as we journey through the Temple of the Moon and Sacsayhuamán, an extraordinary massive structure and one of South America's most impressive sites
Discover the superb collection at Cusco's Museum of Pre-Columbian Art
This afternoon, check out the action at the lively Plaza de Armas.
Days 3-4 Walk amid the Inca salt pans' beautiful honeycomb of pools above the Urubamba River Valley
Each salt-encrusted basin has been raked for centuries
Visit a weaving community tucked in the hills
Enjoy a private lunch in the home of a local family in the Maras Valley
In peaceful Ollantaytambo, climb the ruins of an Inca fortress and walk along the terraced valley
Shop for ceramics crafted using traditional Inca techniques at the internationally acclaimed Seminario Studio in Urubamba
A culinary highlight is our exclusive cooking class with a local chef.
Days 5-7 Experience Machu Picchu, the incredible "Lost City of the Incas," with its intricate stonework and mysterious religious designs
Hike on the Inca Trail, lined with ancient stones and stairs, to reach the Gate of the Sun and your first unforgettable view of Machu Picchu
Spend a second full day exploring the "Lost City" with a local expert
Stroll the grounds of the Machu Picchu Pueblo Hotel with a local naturalist to learn more about the area's flora and fauna.
Start / End
Cusco, Peru
---
Meals
All breakfasts, 6 dinners, 5 lunches included
Price: $4,898 - $5,698 USD
pp dbl. occ.
(+$1,130 to $1,330 for sgl. occ.)