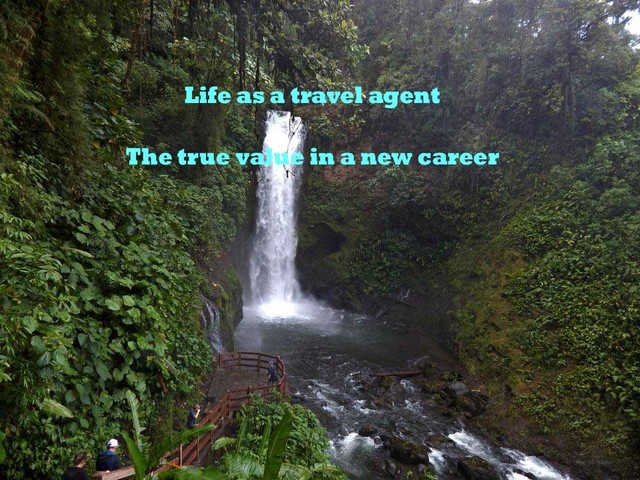 At any age the thought of changing your career can be frightening. Imagine making a change and embracing something totally different. This is my story on life as a travel agent with my new career.
We find ourselves comfortable with our lifestyle especially during middle age. We have hopefully by this time in our lives all the modern conveniences we need or at least what we think we need, but what if you're still not happy. How do we make a change in our careers? Some people are afraid and may think why bother at my age. My biggest fear is making a living. I don't need to be rich or own that great big house on the hill that everyone else drives by and admires. I truly just want to be happy and love what I do.
Poas Volcano is one of my favorites to visit on a tour.
Starting a new career
Well this is a first for me, never in my wildest dreams would I have picture being in business for myself and especially at my age. What was I thinking? I know a little about accounting but SALES! Oh my, I'm not a sale person. I've always worked in an office or health care setting. I don't know the first thing about travel or being a travel agent for that matter. Or so I thought. Is this nuts or what? My goal is to morph into my new business of selling travel full time. How do I get there? I still have 2 jobs. The amount of work can be exhausting with long days. Setting up your business with registration, accounting programs, and then there is trying to find clients. Without clients you have no business. Where do I get these clients? Besides all this I'm trying to work on travel writing for my blog, getting out a monthly newsletter, and scheduling social media. I think just the social media alone is a full time job.
A quick look at the past
Let me take you back to when I started a new career in the health field. I worked hard taking courses to get back into the workforce after raising my children. It wasn't easy trying to help them with homework, get meals on the table and work all at the same time. I then took on a second job. Sounds a little like todays world of making ends meet. Most people need two incomes to pay the bills. I continued this path adding on a home purchase with renovation. Even crazier, I know!
Make a plan
How do we accomplish being happy? Happiness doesn't always come easy. In fact some people never find it and are just miserable. I feel sorry for them and in my heart wonder what happened along the way. What changes could they have made to make things better for themselves. For me happiness is not about the material things but the joy I get from meeting new people and taking the time to explore. Taking an adventure trip or trying something new is definitely scary especially if your by yourself. You don't have the security of your partners income to rely on if your plans don't work out. This is were making a plan will help keep you on track with your goals. Find out what it is you want to do, what budget you need to survive on, and how and where you want to live.
Wildlife also needs to survive.
Research and find your niche
Maybe you need to take courses to achieve your goal. That's exactly what I did. At my age not that I'm old but I figured I had less time then say If was in my 20's or 30's to get to the finish line. I researched the requirements for travel agents, studied hard on my lunch hours to pass the TICO test. That was step 1. I also enrolled in a travel agency course to complete my education.
Next was do I work for a travel agency. How can I spend so much time or maybe all of my time in another country when I work for someone else I thought. Maybe that wasn't the approach for me. Then I looked into what was needed to have my own travel agency. Pretty expensive to start out with all the TICO requirements. Step 2. I read about hosting agencies and sent out some emails. I received emails from host companies with lots of information but just wasn't sure they were the right fit for me. Than something amazing happened. I got information from the CEO of my now hosting agency. The responses to my questions were quick and very informative. Does a CEO of a larger company really care about people? Most of my previous jobs I would have to say no. This was different, something I have never experienced. They help with training, education, provide many courses, and have tech support as well as an accounting department. I pay a monthly fee but what you get in return is well worth it. The opportunities I have received have truly been amazing, they feel like family. An extended family that's always there for you.
What's next? Research and find out what your niche is. Well for me I've always loved the warm weather, beaches, and amazing sunsets. South of the boarder it is then.
You never know what you'll see on your drive through the countryside but that half the fun.
The travel bug
I started travelling again with my kids in 2004. Our first trip was to Orlando Florida. From then on it's been a vacation every year. How do we do it? Save, figure out the cost of your trip and put away each week or month. You could say soon after this I got the travel bug. Now I travel solo, no friends or family to weigh me down. I'm excited to take off to the unknown destinations.
My first trip was on a new adventure to somewhere I'd never been before. I almost ended up going to Belize but chose Costa Rica instead due to having to take two flights to get there. This choice has opened up my eyes meeting so many wonderful people along the way. I'm meeting new people all the time, talking to strangers and immersing myself in a different culture.
A look from the aircraft down at capital of Costa Rica San Jose
My words of wisdom
"Take time to enjoy the simple pleasures in life"
Don't let material things stand in the way of following your heart to true passion for life.
The beautiful botanical gardens on our way to the coffee plantations
What's great about a new career
What's great about a new career you might ask? The best part of my job is travelling and meeting new people. I get so inspired sitting next to someone I've never meet on an airplane and striking up a conversation. Take my last plane ride for instance, it was the usual 5 hours and 20 minutes from San Jose Airport to Toronto. I've got to tell you this flight was the fastest I've ever had. We were so engrossed in conversation the next thing we knew we had to quickly fill out immigration forms and pack my camera back in my knapsack. We talked for hours about each others interests and differences in the countries. She is living in Nicaragua with her husband and I soon to be in Costa Rica. Our conversation took us to volcano tours and my new career in travel. It just goes to show you, you never know who you are going to meet or who your next client may be. I find such inspirational ideas during my flights sometimes. I love hearing from others on what they enjoyed or didn't enjoy about their vacation. What tours they took, what they saw are important factors for me as a travel agent. I always asked where they stayed to get a good prospective on the hotel. Sometimes I can offer my suggestions so if they return again they can do other activities. After all you can't do everything in 1 week which is the average vacation time. We do suggest to spend a minimum of 10 days to 2 weeks if you really wants to see parts of a country.
The beautiful sunsets are always breathtaking and unique.
Can you tell I love my new career! I think I was secretly born to be in the islands. If not an island than definitely a warm country with no snow. I'm quite happy to wear shorts & t-shirts all year round.
Ideas come and go
Sometimes while I'm away on a trip I awake at crazy hours in the night. Like 3 am for instance. A new idea for a tour pops into my head. No sense trying to get back to sleep. I pop open my computer to research or take a pad of paper & pen and start jotting down my ideas. Sometimes it's just something I want to change on my website or possibly a new tour I'd like to try. Whatever it is, I just go with the thought. You can always think more about it the next day but if you don't at least right it down it can be forgotten. Sometimes the best ideas just come out of nowhere.
Visiting the local restaurants and tasting the local cuisine is all part of the cultural experience.
Getting ready for a tour
Lots of prep work goes into a tour. I spend time researching so I'm up-to-date on information. I know my tours but clients ask you all kinds of questions and you have to be prepared to answer intelligently. My partner may call and give me only 15 minutes notice to be ready. I quickly pack my knapsack with essentials. What's in my bag you might wonder? My camera, back up battery, sun lotion, bug spray, money ( 2 currencies), sunglasses, a water bottle, and of course my business cards. It's so important to be prepared and look professional. I have company shirts made with my name and logo embroidered on them.
Our natural experience tour with the monkeys is one of my favorites
Progress on my plan
I'm at the half way mark in my plan. Just sold my house and moved. Now to start downsizing on the jobs. You certainly didn't think I was going to keep up this crazy schedule for ever did you? My next step is to concentrate on building clients in my data base, market to as many as possible, and hope the word starts to spread. Little by little. It a hard market to compete in. You have the internet with all kinds of websites like Expedia as well as hotel site offering great deals. What I offer is a more personal touch for my clients. If there is a problem or they just want to learn about a new destination, I want to be able to help them decide what is the right choice for them. No pressure. Everyone is out to make a dollar, I get that. I can't always be about that. People do have feelings, work hard for their money and deserve to have a great vacation. This is were I hope to come in. I've know sold a few vacation packages, insurance policy and have clients spreading the word.
Having a business plan is very important as well as making adjustments to succeed. I never want to be a large company. I want to know my clients, be the best agent for them, and enjoy being their tour guide as well when I can. Nothing feels better than the great outdoors. I've always loved animals. This is the greatest part about being a tour guide. If you are comfortable with the animals and have a real connection with them than I believe this shows to your clients. They feel they can trust you. The animals certainly do. We know them by name, can point them out and even know some of their habits. That's a true appreciation for life. We love what we do! I'm a travel agent, tour guide or sometimes both.
Enjoy the simple pleasures
I find I have the best ideas while away in a tropical destination. Things are less complicated, simple, and you have time to relax. When your mind is tired or stressed out your not able to create and imagine new possibilities. My partner reminds me with simple words of "don't worry, be happy" quite often. I laugh, take a moment to dream, and laugh some more. Enjoying simple pleasures is really a wonderful feeling. You don't need lots of things around you just great family and friends. Love yourself and make yourself happy. You will find strength and be stronger inside and out.
Family & friends for support
My family is very supportive and I hope my children understand one day the mountains I've climbed not just physically but emotionally as well. It's never easy to make change in your life but I believe if you follow your dreams and your heart they will get you through the difficult times. Nothing is easy but sometimes dreams do come true.
This is my dream. Tell us about your dream career.
If you like reading this post and find it inspirational we'd love for you to follow us on FACEBOOK or INSTAGRAM