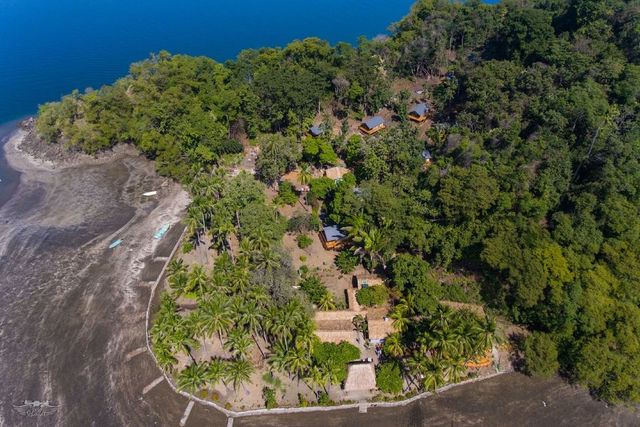 Some people prefer a little more rustic accommodations and Costa Rica has created that with a new glamping theme.
Costa Rica opened its doors to a new adventure style of camping or should we say GLAMPING in the spring of this year. An exciting new adventure for people wishing to enjoy an outdoor experience with more luxurious amenities than traditional camping.
Located on the Isla Chiquita Island in the Golf of Nicoya this newly opening facility is host to 15 large tents. Giving you that natural experience for your whole family to enjoy.
Dining
Isla Chiquita Glamping 's restaurant Tia Nora serves up breakfast from the traditional Tico gallo pinto, huevos (eggs) & tortillas to , lunch of fresh catch ceviche, to Strawberry Chicken for dinner. With the ocean all around you you're sure to have the freshest fish of the day. Yum! I can just taste that delicious red snapper now. If fish isn't your thing they have pizza too! Be sure to save a little room for dessert. I always think it's good to treat yourself to a little sweet once in awhile. Try one of Costa Rica's famous Churchill's (shaved ice topped with sugar syrup, powdered milk, and sweet condensed milk).
Gamping Tents
Tents are available with a king size bed, daybed, private showers and a bathroom. Because we like to keep things eco-friendly in Costa Rica you won't find air conditioning or even a swimming pool here. No need when you have gorgeous 360 views all around you.
Relax & enjoy the island views with a glass of cabernet sauvignon, a refreshing mojito or try the island special of coco de la isla (gin, Malibu, agua de pipa)
Things To Do
Glamping is a different kind of activity that's increasing in popularity. A new way of connecting with nature, the ocean & land but still enjoying some of the finer things in life. Do a little fishing Costa Rican style after all you have the ocean to explore.
photos [courtesy of Isla Chiquita Glamping]